DR. TIMOTHY W. SLOAN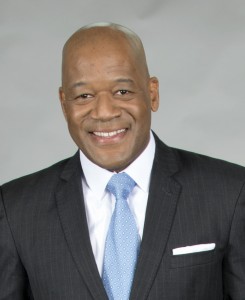 Timothy W. Sloan is a native of Sherman, Texas. He received his Bachelor of Arts Degree from Morehouse College in Atlanta, Georgia. While serving as a Chapel Assistant for the Martin Luther King, Jr. International Chapel, Dr. Sloan appeared in the television documentary "Malcolm and Martin: The Story of A People" hosted by Louis Gossett, Jr. In a tradition established by Dr. King, a Morehouse alumnus, he was selected to deliver the Annual Senior Sermon to the Morehouse student body.
Dr. Sloan went on to receive his Master of Divinity Degree from Princeton Theological Seminary in Princeton, New Jersey. While at Princeton he authored the first ever Master of Divinity and Juris Doctorate joint-degree program between Princeton and Rutgers University School of Law – Camden. He has studied law at Rutgers, as well as South Texas College of Law in Houston. While at Rutgers he served as a law clerk in the law office of Crawford and Associates in Philadelphia, Pennsylvania and later as an intern with the Harris County Attorney's office in Houston. He received his Doctor of Ministry degree in Transformative Leadership from Colgate Rochester Crozer Divinity School in Rochester, New York. He has done post-graduate studies at the University of Oxford in Oxford England and The American University in Paris, France. Dr. Sloan is an ardent proponent of being well equipped for ministry.
Upon relocating to Houston, Dr. Sloan began serving as the Minister of Human Service Programs at Wheeler Avenue Baptist Church. He later joined the staff of Interfaith Ministries for Greater Houston (IM) as the Director of Interfaith Relations.
In May of 2002, he was called to serve as the Senior Pastor of St. Luke Missionary Baptist Church in Humble, Texas, affectionately known as "The Luke." The Luke is a vibrant congregation committed in ministry to the total person through spiritual development, social witness, economic empowerment and health awareness. Under the leadership of Dr. Sloan, The Luke has grown from under 300 to over 5,000 members, highlighted by an extensive acquisition of property and the construction of a brand new worship campus and family life center. He has led The Luke in developing partnerships with national organizations such as: AARP, NFL Play 60, American Heart Association, Dairy Max and the NAACP to meet the personal and corporate needs of a growing faith community. Committed not only to a local, but global missionary vision, The Luke under the leadership of Dr. Sloan has directed missionary representatives to South Africa. As an ambassador for New Missions, an outreach organization to Haiti, Dr. Sloan is at the forefront of an effort to build schools and churches, educate pastors and provide medical assistance.
Dr. Sloan has been honored by the Houston Community College as a "2014 Unstoppable Leader" and inducted into the Martin Luther King, Jr. Board of Preachers at his beloved alma mater Morehouse College. He currently serves on the NAACP HIV Faith and Social Justice Advisory Board and participated in developing a manual to assist faith leaders and churches in addressing the HIV/AIDS epidemic. He has served on the Board of Representatives for CanCare in Houston; the Advisory Boards for the YMCA Kingwood Branch and the Faith Initiative for the Points of Light Foundation; as well as the Board of Directors for Metropolitan One Church One Child, Inc. He is a proud member of Alpha Phi Alpha Fraternity, Inc.
Dr. Sloan is blessed in marriage to Sonya M. Sloan, M.D. an Orthopedic Surgeon and the Founder and Executive Director of ME&WE, Inc. (Motivating and Empowering Women to Excel). They have two beautiful daughters, Sarah Julia and Soren Grace and one son, Timothy John. They both take joy in the fact that they share in common occupations that focus on healing.